Its been a long time since the last post but I've been working on it again in the last 3 months.
Everything is tested but the MIDI part and everything works fine so far.
Here is the current 20-loop prototype (backside):
From top to down and left to right:
OLED Display 128x64px
Power distribution PCB (9V in, 6x5V out, 1×3.3V out)
PCM Control board
3x PCM extension board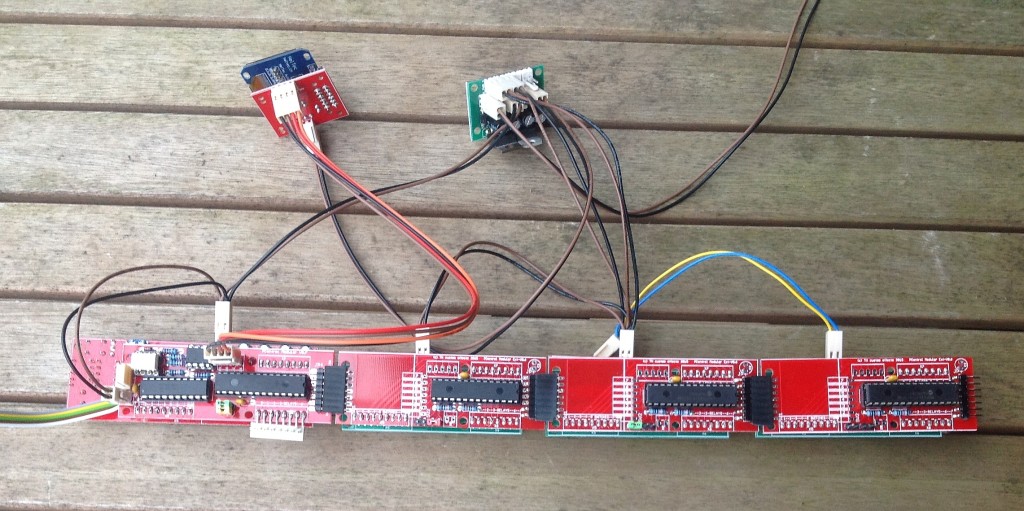 Things to do:
Verify MIDI functions
Change processor to a version with more programming memory (The fonts for the graphic display are a little large compared to the rest of the code)
Remove some bugs from the code that have to do with storing information
Do documentation ! 🙂
 …
While working on the code the final specs come to light:
Full modular design

auto detection of display type
auto detection of extension modules connected
piggiback mounting of control boards (switches and indicators)

Minimum solution has 5 loops, expandable in steps of 5 up to 20 loops
There are three display variants at the moment

3 digit 7-segment LED
132×32 LCD Module with backlight (DOGM-132)
OLED 128×64

120 presets that can be organized as
Each preset stores

20 loops
12 letter preset name
16 bytes of midi data to be sent

Switching options

Tuner out
Mute while switching (configurable mute time)
standard loop-switch
opto loop-switch
amp selector
amp channel switching (TS/TRS)
loop order switcher
stereo option
switching of "before amp" effects and "amp send/return effects" in one setup
MIDI switching of external effects and amps

Program Change (selectable channel and program)
Control Change (selectable channel, control and value)
Adding a few more pictures:
Please be aware that the images show prototyping at its best, so I added a few more connectors and things than needed on the final version 🙂
Control board:
Extension Board:
7-segment and control board:
Pigyback mount of Control board and Display board:
external LCD module 132×32:
External 7-segment Module:
Extension-Control board:
The design is working well but I need more programming memory to do some really nice editing features on the graphic displays.
Because of this and a few other things I decided to do new layouts for the Controller, Extension and Display-Boards.
Upcomming post#4 will show what I came up with on Eastern.