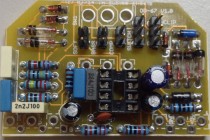 This is based on a DOD 250™/ MXR Dist+  overdrive which is a straight-to-the point distortion unit.
In addition to that Brian Wampler has written a nice article in premierguitars which discussed a lot of modifications to optimize the circuit http://www.premierguitar.com/articles/mxr-distortion-plus-mods-1
Those mods are switchable on the OD67 board. The most usefull one (which the builder is to decide) can be routed to the on-board switch.
Below is a build report (in german language) which greatly describes the features and tones available with guitar and bass!
Zum Sound:

– gute Wahl, der TL061! Ich habe den in meinem aktiven Bass (aufgrund des geringen Stromverbrauchs) und habe den bisher nur clean gehört. Mit der Brücke bei "Soft" clippen die Dioden ja früher, ich habe versuchshalber mal eine 1N34a durch eine 1N4148 ersetzt, um ein asymmetrisches Clipping zu erreichen, was mir noch einen ticken besser gefällt. Auch habe ich den 25p Feedbackkondensator durch einen 33p ersetzt. Bei mir war sowieso ein 30p dabei, aber ich hatte das Gefühl, dass es obenrum noch etwas krisselt. Ich habe den Tone-regler gern aufgedreht, deswegen habe ich an der Stelle schon vorher etwas mehr bedämpft.

– da der TL061 ja nen recht hohen Eingangswiderstand hat, wird das Gitarrensignal auch bei gestecktem Comp wenig bedämpft – finde ich super. Ich hatte mal ein Gitarrenkabel von Klotz, das hat so viel Höhen geklaut, dass ichs nach zwei Tagen wieder umgetauscht habe. Katastrophe =)

Getestet habe ich mit:

– 1979er Strat

– 2003er Tele mit einem DiMarzio The Chopper im Steg (Humbucker mit ordentlich Output)

– Epiphone Les Paul von 1998, wobei im Steg ein DiMarzio Humbucker sitzt.

– Yama TRB-4P, aktiver Bass mit geringerm Output (vergleichbar passiver Bass).

– für Gitarren einen 1982er Fender Concert Rivera 1×12

– Bass mit einem Ampeg B-1 an einer 4×10 Ampeg und 1x15er Hughes+Kettner

– Crate Power Block (auf dem Schreibtisch, zum üben mit Kopfhörer =)

also alles in allem eine gute breite Palette, aber den Overdrive habe ich immer nur einzeln, also ohne andere Effekte dazu getestet.

Gitarre: comp ohne Jumper, Bass mit Jumper, Soft mit Jumper, HClip ohne Jumper.

Bass: comp mit Jumper, Bass ohne Jumper, Soft ohne Jumper, HClip auf 1 und 2.

Zum Sound mit Instrument:

mit der Strat in der Zwischenposition zwischen Steg und mittlerem Abnehmer: Ein Traum! Sahnesound. Gleiches mit dem Halstonabnehmer. Knaller. Gefällt mir seeeehr gut. Klingt sehr nach vintage =) Leichte Akkorde, also ohne komplexe Harmonien sind stets sehr gut differenzierbar. Der OD reagiert ja feinfühlig auf den Volumeregler der Gitarre, damit konnte ich einen schönen Boost für Solo-singlenotes hervorzaubern.

Mit der Tele auch im Halstonabnehmer sehr geil, mit dem Humbucker nicht so sehr. Da fehlt mir irgendwie die Definition, ich finde das an der Stelle etwas zu untransparent. Irgendwie ist da kein richtiges durchkommen. Singlenotes hingegen sind auch mit dem Humbucker sehr voll. Gleiches gilt auch für die Les Paul, wobei ich sagen muss, dass der Tonabnehmer eh sehr mittig ausgelegt ist. Mir gefällt der Sound der Tele beispielsweise mit einem Tube Screamer deutlich besser. Der Tonabnehmer eignet sich aber auch eher für Metalsounds (sehr viel Output), wobei ich selber eher Indie spiele – aber der Tonabnehmer war schon drin. Insgesamt klingts mit der Paula etwas zu nasal.

Bass: für angezerrte Sounds sehr schön, für die etwas härtere Gangart klaut der mir aber dann doch zu viel Bässe. Da klingt auch mein Ampeg, wenn er etwas härter angetrieben wird, deutlich runder. Gut, ist ja auch ein Ampeg =) Ist aber ja auch eher für Gitarre gedacht, oder?

Insgesamt habe ich das Gefühl, dass Dein OD mit high-output Pickups nicht so gut zurecht kommt wie mit Singlecoil-PUs. Hängt natürlich auch mit meinen PUs zusammen. vom Sound her erinnert er mich an Mother Tongue und Karate (Album pockets). Ist halt sehr geil, wenn er mit der Strat so herrlich schmatzig klingt. Allerdings gefällt er mir wie gesagt etwas besser, wenn er asymmetrisches Clipping hat. Vielleicht wäre es noch interessant zu testen, wie er mit einem anderen Tone-Kondensator klingt, 3,3nF oder 3,9nF vielleicht. Evtl. würde das besser zum Basssound passen.
Its  an original article and detailed article, so I wont have time to translate it now but one point I want to pick out. The settings for bass and guitar for your first try:
Guitar: comp no jumper, Bass with jumper set , Soft with jumper set, HClip no jumper.
Bass: comp with jumper set, Bass no jumper, Soft no jumper, HClip on 1 and 2.
---