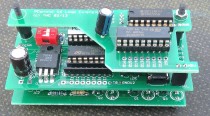 [wpdm_file id=12]
Build your own Pedalboard Controller using our modular system !
This is Revision 2.1 with several enhancements
processor controlled
easy-to-read display
30 banks of 4 patches each
8 Loops with optional Bi-Amping
Input board with linear driver and Tuner-Out
Up to 16 loops using the extension board
Input board has an optional power distribution area (recommended for the 16 loop version)
Software now allows to use manual mode which enables you to switch on/off single loops at will without the need for programming.
Based on your needs you are free to use the available components in building your own straight-to-the-point pedal controller unit!
Demonstration video of the unit:

The pedal controller 2.1 DIY-Set consists of:
1 PControl 2.0 Display PCB
1 PControl 2.1 Controller PCB
1 PControl 2.0/3.0 Relais 1 PCB
1 PControl 2.0/3.0 Relais 2 PCB
1 PControl V3.0 Input/Tuner PCB
Programmed Microcontroller V2.12
For your reference the V2.0 build instructions:
[wpdm_file id=1]
---
PControl V2.1 has been discontinued. Please look out for the new PControl Modular Unit.